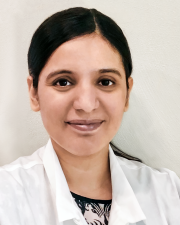 Dr. Yuvika Choudhary, who is bilingual in English and Hindi, is an experienced general dentist with clinical proficiency in fillings, crowns and bridges, veneers, extractions, root canal treatment, emergency dental care, and teeth whitening. She is also certified in Invisalign® aligners, a popular alternative to braces that uses removable aligners to gently guide teeth into place.
Dr. Choudhary received her Bachelor of Dental Surgery (B.D.S.) from Chennai, India. She then moved to the United States to pursue her education at New York University College of Dentistry where she earned her Doctor of Dental Surgery degree. Dr. Choudhary performed her General Practice Residency at Bronx Lebanon Hospital Center, Bronx, NY. She is a member of American Dental Association, New York State Dental Association and the Ninth District Dental Society.
In 2013, Dr. Choudhary was awarded the Dr. Bernard E. Reginald Memorial Award for superior performance demonstrated in providing care to patients and administration of clinic. She is committed to providing each and every patient with the highest standard of care.
Book Online Now
Complete the form below to book your appointment today.
Office Hours
Monday

9:00 AM – 5:00 PM

Tuesday

9:00 AM – 5:00 PM

Wednesday

9:00 AM – 5:00 PM

Thursday

9:00 AM – 5:00 PM

Friday

9:00 AM – 4:00 PM

Saturday

9:00 AM – 3:00 PM
* Open 1st & 3rd Saturday Of Each Month
CareCredit
CareCredit is a healthcare credit card designed for your health and wellness needs. Pay for the costs of many treatments and procedures through convenient monthly payments.
Our patients leave smiling


Dr Friedman was great. Painless dentistry . Nicole is a great assistant and explained everything. Highly recommend the office!

Robert C.



Excellent care !! They were very attentive to patient's comfort during procedure. Very impressed. Overall it was definitely the best experience I have ever had at the dentist.

Nicole O.



Best Dental Experience I have ever had. Everyone Is very Nice and explain every thing before it happens.

Brendan W.



Great services great Dr.exelent job

Jose A.



My experience at Saw Mill Dental with Dr. Choudhary was painless and caring. She really is dedicated to comforting her patient while providing quality care.

Delgreco M.



Nicole and Dr. Friedman worked on me for tooth extraction. The experience was comfortable and extremely quick.

Richard C.



Great office. Faculty is amazing and very patient with any questions you have. Dr. Atwell is the greatest. Been coming to this office only since moving to New York from across the country. Great place very clean. Highly recommend!!!! Winnie and Maria at the front desk is amazing!!

T S.



Had a wonderful experience with the staff, quick and easy visit, good atmosphere

J G.



Dr. Freeman was a nice, pleasant doctor and his dental assistant Nicole was sweet. professional front desk staff with a very Clean office

Jonelle F.



Dr. Freedman and Nicole are great

Rianna V.



Second time here with Dr. Choudhary and it was amazing! Got fillings and it was surprisingly painless. They have very friendly staffs. James and Nicole were very pleasant and they made sure I was comfortable and that everything was good. Definitely a five star!!!

Tashika G.



Dr was amazing and the temp crown fit like a glove. Nicole call was amazing and explained everything to me and kept me very relaxed and I really enjoyed my experience here

Ira F.



Dr Choudhary, Nicole and the rest of the staff are very nice. Dr Choudhary is very accommodating and explained everything to me. I'd recommend her to everyone.

Antoinette S.



My son, Jeremiah was taken care of with professionalism and courtesy from the staff at Saw Mill Dental. Audrey, the receptionist was very informative in relaying the information on my bill. Really thankful for her help.

Jeffrey S.



My experience was great wonderful service everything was on point i recommend coming here. Thanks Dr Choudhary!

Jay G.



The staff are amazing! Nicole and Winnie did a great job helping me my appointment for straightening my smile.

Luis D.



It's really amazing how they treat you. And they want to make sure you learn everything about you. Best experience ever.

Zia H.



My experience has been nothing but positive here. The staff is extremely nice and helpful. Dr. Freedman explains everything prior and during procedures. The follow up is excellent. Nicole the assistant makes you feel very comfortable during your time there. I would definitely recommend them.

Ellen F.



The staff of Lisha and Nicole are amazing. Very friendly and helpful and they help make the whole process painless and stress free. Dr. Friedman is a magician. He's very gifted and I'm so grateful to have been in his care.

Mark C.



I have been coming here for years and now my kids come here also. It's a family affair.! Dr. Friedman and Nicole are awesome with my son's orthodontal work. Highly recommend!

Denise D.



Very nice staff. Extremely profession. Dr. R. Friedman and Nicole are excellent. I can not wait to return to see them.

Andrew S.



Dr Friedman is a great dentist, and Nicole the assistant is amazing!! Great people!!

Arlene D.



The people are Fantastic, Staff is very Friendly and Extremely Good at their Jobs. I was well taken care of and especially impressed with Nicole. Thanks to Everyone for being so patient with me and for the Expertise you Employ!

Jeff R.



Great service. No waiting. Easy in and out

Nehru S.



Nicole did an amazing job. Very gentle.

Svpreme.CJ23



Had a beautiful experience…they will help you out with all you need……i have no dental insurance and the whole staff was able to work with my budget and start my way on to keeping my beautiful smile healthy…..they rock….

Ny O.



Just had a great hygienist appointment with Karen. Love all the Saw Mill Dental Team Nicole, Winnie, Maria, Audrey and Dr Friedman, of course!

Marilyn M.



Dr Friedman did a great job walking me through a difficult time and decision and I'm very pleased with the outcome. Would certainly recommend him. Very friendly and helpful office staff.

Edward S.



Dr Friedman did a great job walking me through a difficult time and decision and I'm very pleased with the outcome. Would certainly recommend him

Edward S.



The best customer service experience. The staffs are always professional and punctual. Nicole always put a smile on my face. She always have a positive attitude and she is very efficient. My experience at Saw Mills Dental is always consistent. I always have a WOW! Moment. The best experience. The office is always clean and comfortable. Thank you for always giving such extraordinary service. I love…

Andre M.



Doctor atwell and Nicole they are great They do great work they are so sweet to talk and they take care u on time u have the appointment, that is so great and good for clients!

Ylli P.



4-stars for the warm welcome and reception by the front desk/back office staff. A special shout out to Sonya (thank you for making sure I'm on time), Audrey, Winnie, Nicole and my hygienist who made me smile even when I was nervous.

Kenya J.



The people at sawmill dental are nice and they make you feel comfortable

Philip L.



I had such a wonderful experience at Saw Mill Dental. Dr. Friedman and Nicole took such great care of through a long process and I couldn't be happier with the outcome! All of the staff makes you feel so comfortable from the moment you walk in until you leave. Thanks for making me smile again :)

Bridget D.



We have been using their services for several years now, and it is exactly what we were looking for… They are professionals in their business, punctual in the schedule and so friendly. Our whole family is very happy with Saw Mill Dental.

Jenny T.



very good service my teeth are strait as ever!!

Marcus L.



Love Dr. Atwell & Dr. Friedman the service of all the staff. Especially Nicole. I love coming here & completely confident in everyone's ability.

Jennifer H.



James & Nicole are the best love the office

Jayden M.



Nicole and Dr Friedman were so wonderful and they accomoded my every need.very professional staff.great job on my new caps

Linda S.



Wonderful doctors and staff!

Emanuela F.



Very considerate, friendly & professional dental health providers!

Barbara H.



Excellent as always. Dental surgery made painless.

Kristin S.



This is Joshua mother Reg service was excellent that's why I keep returning with my sons

Joshua P.



My appointment was at 10:00 am and they started working on me at 10:02. Dr. Atwell was so warm and inviting. She talked me through her whole process. She was gentle and I felt like I was in good hands.

Yarima A.



It was great and quick.

Elvin M.



Dr. Lauren made me feel at ease, explaining in detail exactly what she was going to do. Her professional demeanor is to be commended. She is by far the best dentist I ever had. She was able to diagnose my tooth issue where two previous dentists could not. Thank you Dr. lauren.

Gerard R.



Every one there out me so at ease that i didn't get overly nervous . Dr oshman was wonderful along with her dental assistant

Alaina N.



Dr Friedman , Dr Atwell and Winnie have made my visits pleasant. Highly recommend!

George C.



My dentist, Dr. Atwell, and staff were very gentle with me an she explained step by step everything she did in my mouth. She was very caring and friendly. Thank you so much. Phillis

Phillis C.



Always a great experience.

Kristin S.



The office is very clean and well maintained and the staff is very friendly and courteous and professional. The quality of work performed by Karen the hygienist and Dr. Atwell the dentist is exceeds excellence. I would definitely recommend and have recommended this office to friends. Not mention Maria at the front desk is a sweetheart.

Nazaree S.



I've been going to Saw Mill Dental for over 30 years and I only have good things to say about Maria, Carol and Karen whom keeps me and my smile bright, healthy and white!!!!! Keep up the good work Ladies you are the BEST!!!!

Barbara K.



The entire staff was very friendly and patient . Awesome experience.

Brenda R.



A positive experience with Dr. Friedman and the entire Saw Mill Dental team that cares and is always sensitive to the patient's needs etc. throughout the visit.

Dennis K.



Winnie is the best dental assistant here in Yonkers!!! Ya have to come here

Juan C.



Winnie was excellent and Dr.Friedman was great! i had a terrible cracked tooth from old cosmetic work that was faulty from a car crash. Through every step they were comforting and professional!!!

Darnell R.



As usual my time at the dentist was pain free and very comfortable. Dr. Atwell is the best.

Jason G.



My experience with the dentist was so assuring and comfortable. I wasn't nervous or uncomfortable one bit:)

Chrystal S.



As always Karen did a fantastic cleaning job, was v professional & asked about any concerns I had etc. highly recommend!

Siobhan M.



When faced with a broken tooth on a Saturday, I didn't know what to. I turned to the internet and found Saw Mill Dental. They are a God send. The staff was great and the dentist excellent. I would highly recommend this dental practice to everyone.

Anthony P.



Always a pleasure to have a dental procedure. Dr. Atwell is an absolute treasure…Karen is the best hygienist anywhere…top notch dental practice..

Jerry G.



Dr. Atwell is a dentist with a great manner and top notch skills, hygienist Karen is the best around..staff is always pleasant and helpful…Saw Mill Dental is tops!!!

Jerold G.



Dr. Friedman is amazing! I had an emergency my widsom tooth was killing me and they put me in their Schedule I arrived and they greeted me with a great smile. Dr. Friedman reassured me that I will be ok. And in Seconds my tooth was out and I went home. I love this Dental Office! The Staff is very professional and freindly.

Elizabeth C.



I was given a very thorough exam and cleaning and greatly appreciated the detailed instructions on proper dental care maintenance. I was treated very well and learned new, valuable information! I've found my new dentist!

Mary M.



I really love the dental office and everyone is friendly and courteous. The office is clean and the best dental hygienist I've ever had is Karen .. both of my children go there as well and they really enjoy it.

Michelle B.



From the moment I step in the door, I am treated like a welcomed guest, especially appreciated when it is a dentist office you are entering. It was a hygiene visit and it went very very well. Karen was thorough, professional and addressed all my questions and concerns about my teeth in a knowledgable and concerned way. I would recommend Saw Mill Dental to all my friends!!

Monica K.



They made me feel most comfortable and walked me through everything. Sawmill dental is the only place i will go for dental work in the future

Jason G.



There's not enough I can say about Dr. Friedman and all his staff. Everyone is amazing. Professional and courteous. I moved over an hour away but trusting my children's care to another dental office was not an option. I highly recommend Saw Mill Dental for all your dental needs. I'd give them 10 stars if I could!

Cee G.



EVERYONE is so friendly. I've been going to this office for over 10 years and even though I have moved upstate, I still go to Saw Mill Dental.

Trishelle B.



I have to say that I was VERY VERY happy with the service, and care. Everyone in the office treated me with kindness, care and professionalism. I am very afraid of the dentist chair. The doctor made me feel very comfortable. I need two root canals and a wisdom tooth pulled, so I need serious work. They gave me a good price. Not one of the other three dentist that I went to offered me any hope with…

Brian K.



from setting up my first appointment on the phone. To my first appointment at the clinic. Everyone one i encountered, from the front desk to the examination room , treated me with the upmost respect and courtesy . They took xrays and explained to me throughly the treatment plan and my options. Honestly speaking it couldn't have went any smoother . Above excellent!

Abdul W.



This was my first time at Saw Mill Dental and everyone there was very courteous and professional. They made me feel calm since I am always nervous when I visit the dentist. The hygienist did a very thorough job and the dentist explained everything to me in great detail. I would definitely recommend Saw Mill Dental to anyone looking for a dentist to go to.

Owen S.



I have been going to Saw Mill Dental since my daughter was 6 years old………she is now 36 years old…I believe that, in itself, says a great deal about the entire team at Saw Mill Dental!!! Keep up the great work!!!!

Cecilia D.



I really appreciate the excellent service and care your office provided me I also look forward to my next visit on Friday I know you'll do your best to accommodate my situation Best Regards Kevin

Kevin F.



My experience was Very Calm and Painless. Both the doctors and office staff are very caring and ready to make you feel at ease and answer any concerns the patience/myself may have. Thank You!!

Cecilia D.