Dr. Lauren Atwell-Ogelsby, DMD
General and Cosmetic Dentistry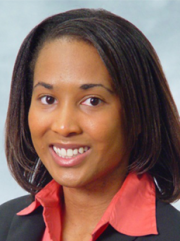 Dr. Lauren Atwell-Ogelsby received her Doctor of Dental Medicine (D.M.D.) from University of Florida College of Dentistry in Gainesville, FL, and performed her dental residency at Montefiore Medical Center in Bronx, NY. Dr. Atwell-Ogelsby is a member of the American Dental Association and the New York County Dental Society.
Dr. Atwell-Ogelsby, who is bilingual (Spanish/English), is an experienced general dentist with clinical proficiency in molar rotary endodontics, crowns and bridges, veneers, simple surgical extractions, implant restorations, and is Invisalign certified. In 2011, Dr. Atwell-Ogelsby was awarded the Dr. Carroll Bennett Award for Academic Excellence in Pediatric Dentistry.
Dr. Atwell-Ogelsby enjoys reading, photography and attending live music events – and especially enjoys putting a smile on her patients face.