Posted under:
Root Canal
Posted on: November 24, 2020
Invisalign: Frequently Asked Questions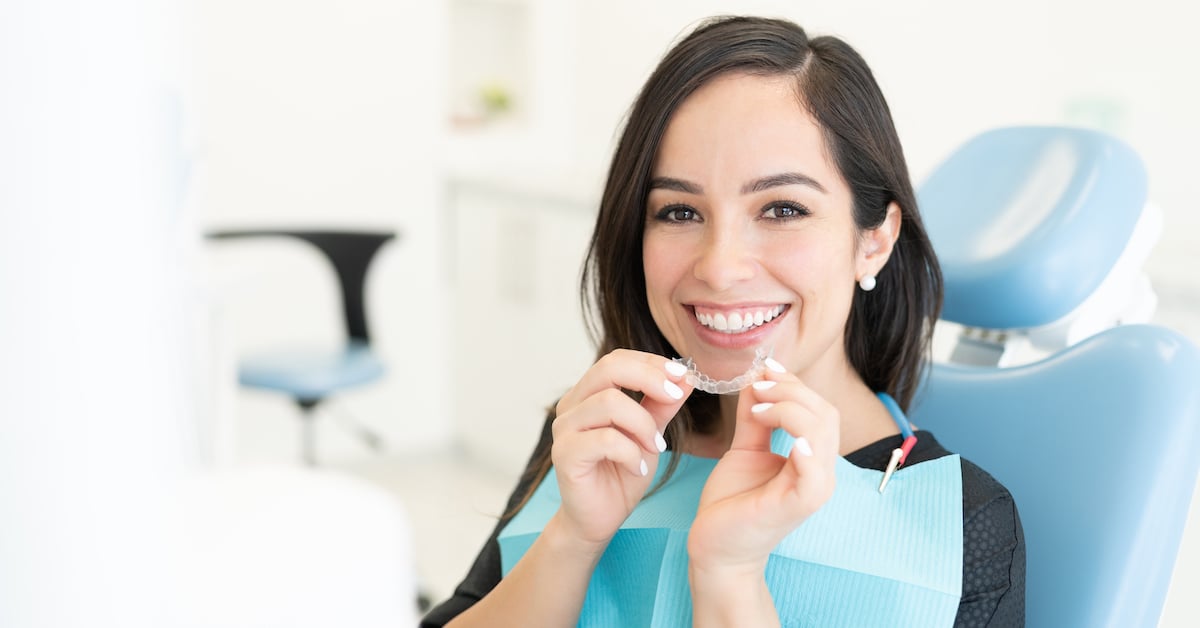 Crooked or misaligned teeth can make it difficult for you to smile easily or to interact with others with confidence. At our dental practice, we offer an extensive lineup of options for dealing with these issues effectively. Our team will work with you to determine which orthodontic option is right for you. Invisalign is a solution that works well for many of our patients and that offers practical and nearly invisible adjustment to put your teeth back into alignment. This can boost your self-confidence in all your interactions in social, professional and personal situations.
What Problems Does Invisalign Correct?
The Invisalign system consists of many separate aligners that fit over your teeth and provide consistent gentle pressure to move the teeth into a straight and even position. Each aligner is different. They work sequentially to produce the desired results and then to build on that progress to realign teeth for an even, beautiful smile.
Invisalign trays are made with a transparent plastic called SmartTrack that is designed to create the right amount of pressure to move teeth without causing severe discomfort. Because the amount of pressure is carefully controlled, each step in the process makes an incremental difference in the position of your teeth.
Invisalign, as its name suggests, is almost invisible when it is in place. This can provide greater self-assurance for you or your family member when interacting with others. By choosing Invisalign, you can enjoy these benefits while straightening your teeth effectively.
Is Invisalign the Right Choice for Your Teeth?
Invisalign is not the correct choice for everyone. Some people cannot derive the full benefits of Invisalign for a variety of reasons.
Children and teenagers with jaws and teeth that are still growing are not usually good candidates for Invisalign. This system requires precise measurements of the teeth to perform effectively. If the size of the teeth or the shape of the jaw changes over time, the Invisalign process will have to start all over again. This can represent a significant investment for families in our area.
If the misalignment is too severe, it may not be possible to correct crooked teeth using Invisalign. In these cases, our dentists will provide you with other alternatives that will help you resolve issues with misaligned teeth quickly and effectively.
People who cannot commit to wearing the aligners 20 to 22 hours each day should not make the investment in Invisalign. Consistent and constant wearing of the aligners is required to achieve the desired results for you and your family.
Cost may also be a barrier for some families in choosing Invisalign over traditional braces. Invisalign is more expensive than traditional braces or retainers. If this outweighs the benefit of transparency for you and your family, then traditional orthodontic solutions may be a better choice.
Our dental team will work with you to determine the best approach to straightening your teeth and achieving the bright and beautiful smile you have always wanted. If Invisalign is right for you, we will work with you to make sure that you can receive this orthodontic solution.
The Key Steps of the Invisalign Straightening Process
Your journey to straighter teeth and more beautiful smiles will begin with your first consultation with our team. We will discuss all your possible options and will provide you with our recommendations for achieving the desired results.
If Invisalign is chosen as the solution for your crooked teeth, our dentists will take impressions or molds of your teeth. This will provide the information needed to fabricate Invisalign aligners that are precisely suited to the shape and size of your teeth. Once this process has been completed, you will need to wait for the aligner set to be fabricated. This typically takes a few weeks.
When the aligners come in, you will be asked to visit our office for a fitting and to make sure that you understand the process. You will wear your aligners for at least 20 hours each day and will switch to the next in the sequence on a regular basis. Most of our patients can move to the next aligner in their set every two weeks or so.
After you have gone through the entire set of Invisalign aligners, you will typically be done with treatment and your teeth will be straight and even. This will allow you to enjoy greater confidence in managing your daily routine.
How Is Invisalign Going to Impact My Daily Activities?
You will wear your Invisalign aligners all the time except when you are eating, drinking and performing routine dental hygiene. This may require some adjustment on your part, especially during the first few days of wearing your aligners.
Invisalign is designed to be virtually invisible during wear. It should not affect your ability to speak clearly or to smile with confidence in personal interactions. Because Invisalign aligners are designed to fit over your natural teeth tightly, they will not slip out of place during these situations.
Sleeping in your Invisalign aligners is necessary to complete your treatment plan in the shortest time possible. Our team will provide you with a personalized plan to wear your aligners for the appropriate amount of time each day.
What Happens After the Invisalign Process Is Complete?
When your teeth straightening process is complete, you may need to wear a retainer on an intermittent basis to keep your teeth perfectly in alignment. Our dental team will schedule follow-up appointments to ensure that your teeth stay beautiful and healthy for many years to come.
Give us a call today to discuss Invisalign or any other dental services you may need. Our team of qualified and dedicated professionals will be happy to work with you to find the best solutions for your dental care requirements. We look forward to the chance to serve you and your family.