Affordable Smile Makeover Options in Yonkers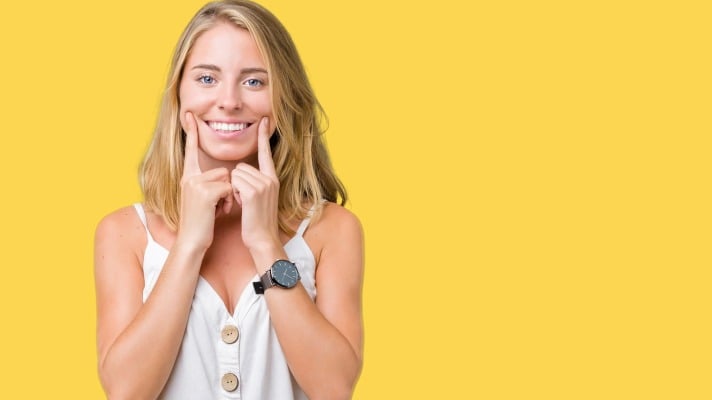 The cosmetic dentistry specialists at Saw Mill Dental can design a treatment plan to help you look your absolute best. From dental whitening treatments to dental implants, we can create a cohesive and effective strategy that will allow you to enjoy greater confidence in all your interactions with others. Smile makeovers are a great investment in yourself and can allow you to speak, bite, chew, and smile with much greater confidence. At Saw Mill Dental, we can give you a smile makeover in Yonkers that will boost your confidence and allow you to put your best foot forward in a wide range of social situations.
Managing the Costs of Cosmetic Dentistry
Dental insurance plans may cover some cosmetic procedures. In general, however, these dental plans exclude treatments that are performed purely for cosmetic reasons. Crowns also serve a functional purpose and may be covered in part or completely by your dental insurance. In a similar way, dentures are necessary to allow you to chew and bite the foods you eat. Teeth whitening and dental veneers, however, will generally require payment out of pocket by the patient receiving these treatments.
The administrative staff at Saw Mill Dental have experience in dealing with insurance companies. This can lower your out-of-pocket costs for many of the procedures we perform on your behalf. If you are looking for affordable ways to enhance your smile, our team is here to help when you need us most.
The Right Solutions for Your Dental Needs
Whether you have minor yellowing of your teeth or numerous missing teeth, the dentists at Saw Mill Dental can provide the right options for creating the smile of your dreams. We offer cosmetic dental options that include the following treatments:
Dental whitening services that include take-home kits and in-office procedures
Dental veneers and dental bonding to hide discolorations and minor imperfections of your teeth
Crowns to cover cracks and to provide added structural support for damaged teeth
Dentures and bridges to replace missing teeth
Dental implants that are designed to hold appliances securely in place
Our dental team in Yonkers will help you find the best solutions for enhancing your smile and improving your self-confidence. We specialize in helping our patients look their best with dental solutions designed to promote better health and improved self-esteem.
Whiten Your Teeth With Us
The dental hygienists at Saw Mill Dental deliver expert teeth cleaning services that will remove plaque and tartar. We also offer a variety of dental whitening options that include kits to take home as well as treatments in our office. While not all dental stains can be treated effectively with whitening kits, we can help you show off a brighter smile with dental whitening solutions that will work for you.
Cover Up Unsightly Stains and Chips
Saw Mill Dental can provide several different options for reducing the appearance of stains and chips in your teeth. The most affordable of these options is usually dental bonding. A bonding resin matched to the appropriate color of your teeth is applied over the front or side surfaces of teeth, which covers up any stains and fills in small chips or cracks. This procedure can be performed in just one visit to our office.
Veneers are customized to fit individual teeth. These thin porcelain shells are then applied to the teeth to create the most natural-looking solution for covering up small chips, gaps in your teeth, or stains that cannot be resolved with whitening treatments. Several appointments will usually be required to take molds of your teeth, to fit the veneers, and to apply them to your teeth.
Protect Your Teeth From Further Damage
Crowns may be covered in part by your dental insurance. Tooth-colored crowns, however, typically cost more than metal versions and may require additional payment on your part to cover the cost of these treatments. At Saw Mill Dental, we can work with your insurer to keep your out-of-pocket costs lower for these treatments.
Replace Missing Teeth the Right Way
Dentures and bridges are typically used to replace teeth lost to decay or gum disease. If you are missing only a few teeth, a bridge can be attached to the adjacent teeth to fill in these gaps in your smile. If most of your teeth are damaged or broken, however, dentures can replace an entire row of teeth on the upper or lower part of your mouth. Our dentists will discuss your options with you and will provide you with the most cost-effective options for your specific situation.
Invest in Secure Attachments for Dental Work
Dental implants are composed of titanium and are placed into the jaw and allowed to heal into the bone. This creates secure points of attachment to which dentures or other dental appliances can be affixed. At Saw Mill Dental, we can provide you with a variety of dental implant options that can help you look your best and can offer greater confidence when biting, chewing or speaking. Our dental implants are a great way to boost your confidence, giving you a bright and beautiful smile in Yonkers.
Why Should You Invest in a Dental Makeover?
A smile makeover in Yonkers can provide you with some important benefits, including the following:
Increased confidence in your appearance
A greater willingness to show off your smile
A better first impression on those you meet
The dentists at Saw Mill Dental will work with you to find the best options for enhancing your smile and helping you to look and feel your best. Give us a call today at (914) 357-8917 to schedule an appointment with our team. We are committed to delivering high-quality, affordable options for cosmetic dentistry in Yonkers.